FREEHOLD PASTURE LAND
superb panoramic vista across Lake Windermere

An outstanding opportunity to acquire highly sought and rarely offered prime land with stables/loose boxes. It is particularly suitable for those with equestrian interests. The property possesses high amenity value with spectacular panoramic views across Lake Windermere towards the Langdales and lies in close proximity to a number of prestigious hotels and also to a variety of water-based and other recreational facilities.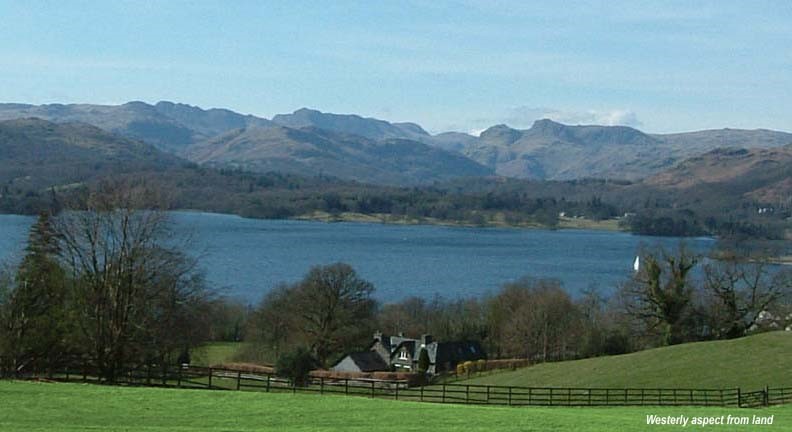 FREEHOLD PASTURE LAND
with
2 STABLES/LOOSE BOXES
MAINS & NATURAL WATER SUPPLY
ROAD ACCESS
5.25 acres (2.12 hectares) approx.
Holbeck Lane (adjacent to the Briery Close Estate), Windermere, Cumbria LA23 1LU
For Sale by Private Treaty
SOLD
SALE PARTICULARS
LOCATION
The land, which originally formed part of the renowned Briery Close Arabian Stud, extends to 5.25 acres / 2.12 hectares approx. It lies within the Lake District National Park and is situated in a tranquil setting adjoining the exclusive
residential Briery Close estate, which itself encompasses 11 additional acres including a traditional manor house and distinctive outbuildings sympathetically converted into stylish houses and apartments, midway between Windermere and Ambleside. The land is favoured with breathtaking panoramic views right across Lake Windermere towards the Langdale Pikes, Wordsworth's "five solemn pikes of Langdale" which are among the most distinctive and instantly recognisable mountain peaks in the Lake District.
Access to the property is directly from Holbeck Lane (coloured yellow on the attached Site Plan), a metalled minor road which branches off the main A591 Windermere to Ambleside trunk road. Holbeck Lane leads up to the village of Troutbeck (designated as a special Conservation Area and containing the classic 17th century National Trust property of Town End), the scenic Troutbeck valley and a network of bridleways close-by in the surrounding hills.
The luxury four-star Low Wood Hotel, which has a lawned shoreline onto Lake Windermere and also a leisure club, indoor swimming pool, lakeside marina and watersports centre, is within close walking distance to the land being less than a mile away as is another eminent four-star hotel, Holbeck Ghyll (patronised by Renee Zellweger during the filming of "Miss Potter"). Four further prestigious three-star hotels, Langdale Chase, Merewood, Cragwood and Briery Wood are also within one mile and walking distance of the property.
White Cross Bay Leisure Park, Marina & Water Sports Centre, again only one mile from the property, has 60 acres of wooded parkland running right down to the shores of Lake Windermere within which are sited a leisure centre, indoor swimming pool and 350 owned and rented holiday homes, chalets, and touring serviced pitches available for caravans and motorhomes.
The surrounding countryside provides considerable scope for a wealth of outdoor leisure activities including golfing, walking, climbing, horse-riding, fishing, bird-watching, camping, boating, sailing, canoeing, windsurfing, cycling, quad-biking etc. The nearby villages of Windermere, Bowness and Ambleside form the hub of this most popular area of the Lake District and provide an even wider range of other recreational activities and amenities.
DESCRIPTION OF LAND
The land is bounded by post and rail wood fencing and by stone walls.
Excellent access is afforded directly off Holbeck Lane at two separate points through wooden field gates of standard single width (12 feet). The primary access to the land is from a level wide area where the Lane opens out after a gradual incline. Entry is gained directly from the Lane, down a short drive on the property, through two wooden field gates and into a fenced paddock where the two loose boxes are immediately situated. Ample space exists for parking in the paddock and in the access drive. There is a second access point lower down Holbeck Lane through a wooden field gate
Outside the paddock, Fields OS 0005 (4.0 acres) and OS 9191 (0.8 acres) provide pasture grazing land suitable for horses, sheep and other livestock. There are mature trees on the land which provide plentiful shade in the summer. The fields are currently let to a local farmer on an annual grazing lIcence which will expire upon the sale of the land.
A further strip of land of 0.45 acres approx. (measuring 200 metres long by 10 metres wide approx.) extends through a wooden field gate from the far end of Field OS 9191 and provides spectacular westerly facing views across Lake Windermere.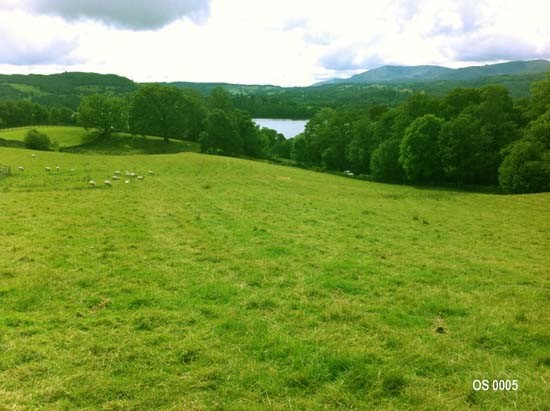 Well-sited prime agricultural land in the Windermere area with substantial amenity value, good road access, natural and mains water, in close proximity to an extensive bridleway network and with a superb vista across Lake Windermere is keenly sought but rarely offered, being invariably tightly held by local farmers and residents.
The availability of high-quality amenity land close to select residential property in country towns and villages is acknowledged to be a major attraction to purchasers of such properties.
The land will be of interest as a secure long-term investment to those involved with equestrian pursuits, landowners, local residents and investors, either as individuals or collectively in groups. Land management facilities are locally available.
DESCRIPTION OF STABLES/LOOSE BOXES
The two loose boxes each measure 3.20 m (10' 6") wide and 3.90 m (12' 9") deep with a 1.30 m (4' 3") wide canopy overhang. They are constructed of dark stained tanalised wood on a structural timber frame with a cedar shingle roof covering and plastic gutters and downpipes. They are located on a brick plinth and built off a concrete raft with an extended apron to the front of the boxes. The doors are of the stable type - - two-part, upper and lower sections working independently, framed and vertically boarded - - and dark stained. The interior is lined with wooden kickboarding to the eaves.
The loose boxes are well screened and blend in perfectly with the appearance and character of the landscape.
Electricity is supplied to both boxes, which have interior fluorescent strip lighting and electrical wall sockets.
There is a mains water connection to one box.
The loose boxes were erected in 1983, are in excellent condition and relevant planning permission for them has been renewed at regular intervals since that date. The present planning permission was approved by the Lake District National Park Authority on 1st October 2014 and extends for another five years until further renewal, upon application, on 1st October 2019.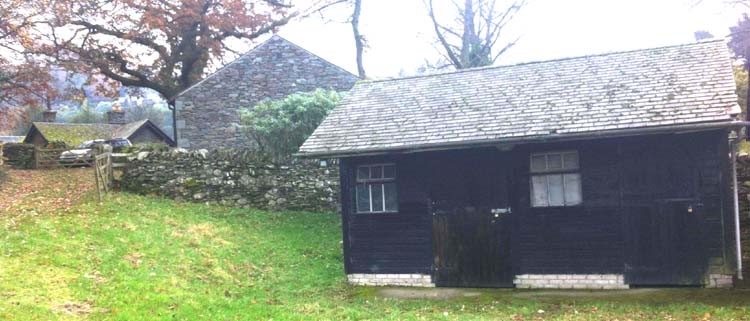 TENURE
The land and loose boxes are sold freehold with vacant possession available on completion.
SERVICES
Mains electricity is supplied to the loose boxes - - electrical wall sockets and internal and external lighting are installed. This supply is also utilised by the owner of the neighbouring two loose boxes and that consumption is measured by a sub-meter and reimbursed to the Vendor on a quarterly basis.
A field trough supplied by mains water is located just beyond the fence at the far side of the paddock. There is also a natural water supply in the form of a stream which emerges onto the land from an underground pipe at the far northern side of OS 0005 and then proceeds under Holbeck Lane towards the Holbeck.
LOCAL AUTHORITIES
Lake District National Park Authority, Murley Moss, Oxenholme Road, Kendal, Cumbria LA9 7RL
Tel: 01539 724555
South Lakeland District Council, South Lakeland House, Lowther Street, Kendal, Cumbria LA9 4DQ. Tel: 01539 - 733333
E-On, Business Customer Service, PO Box 2010,Nottingham NG1 9GQ
United Utilities Water PLC, Dawson House, Great Sankey, Warrington WA5 3LW. Tel: 0845 746 2255
VIEWING
The land may be viewed by prospective purchasers at any reasonable time during daylight hours provided a copy of these Particulars is in possession. Clarification of any of these Particulars during viewing may be obtained by telephoning Mr. Hall on 07770 660912.
It is likely that stock will be grazing the land at the time of viewing so care should be taken to secure all gates.
DIRECTIONS
Take the A591 trunk road from Windermere towards Ambleside. In about 3 miles, Brockhole Lake District Visitor Centre is visible on the left. Continue past Brockhole and approximately 800 metres further on turn right into Holbeck Lane. Proceed up Holbeck Lane for approximately 800 metres until the Lane opens out into a level wide area from which there is access into the property through a wooden gate immediately on the right. Advance down the short drive through the two wooden gates and into the fenced paddock where the two loose boxes are situated. Entrance into the land is through a wooden field gate situated opposite the loose boxes at the far side of the paddock.
NOTICE
1. The Vendor gives notice that the statements contained in these Sale Particulars are produced in good faith, are set out as a general guide only and do not constitute any part of an Offer or a Contract. Any intending Purchaser shall be deemed to acknowledge that he has not entered into a Contract in reliance of any of the said statements, that he has satisfied himself as to the correctness of each of the statements by inspection or otherwise and that no warranty or representation has been made by the Vendor in connection with the property.
2. The land is available subject to all faults and defects (if any) and being open to inspection, the Purchaser shall be deemed to have full knowledge of the state and condition thereof and as to the ownership of any tree, boundary and any other part of the land. The Vendor shall not be held responsible for any such faults or defects.
VENDOR
S. D. Hall Trust
Mr. Hall (to whom all enquiries and offers should be directed)
Tel: 0121 – 663 – 0100
07770 – 660912 (mobile)
Email: info@windermereland.co.uk
VENDOR'S SOLICITORS
Thomson Hayton Winkley Solicitors
Mr. Briggs
25 Crescent Road
Windermere
Cumbria LA23 1BJ
Tel: 015394 – 46585
Email: peter.briggs@thwlegal.co.uk
SITE PLAN
The plan attached to these Particulars is for identification purposes only. The boundaries of the land to be sold are edged green on the Site Plan and, whilst the boundaries and areas quoted are believed to be correct, prospective purchasers should satisfy themselves with regard to this and any other aspects of the purchase.
LOCATION MAP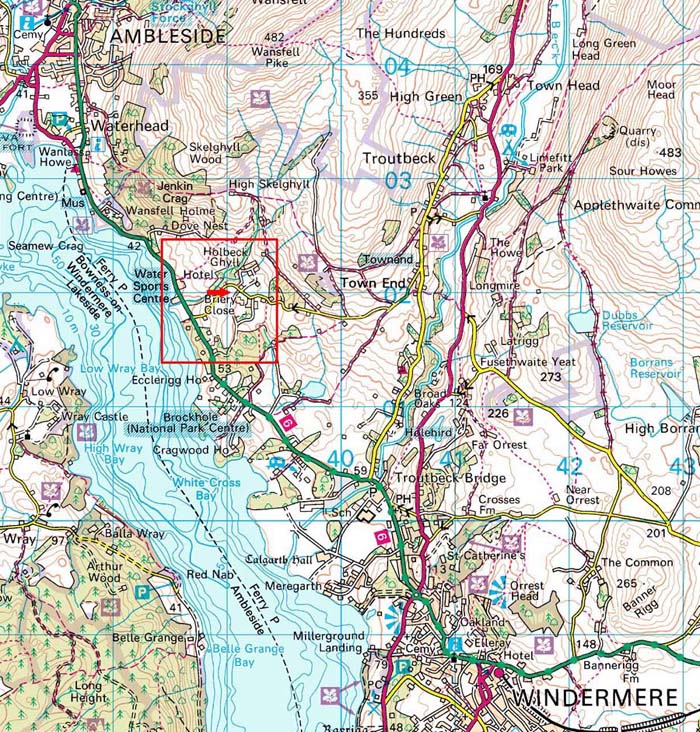 AERIAL VIEW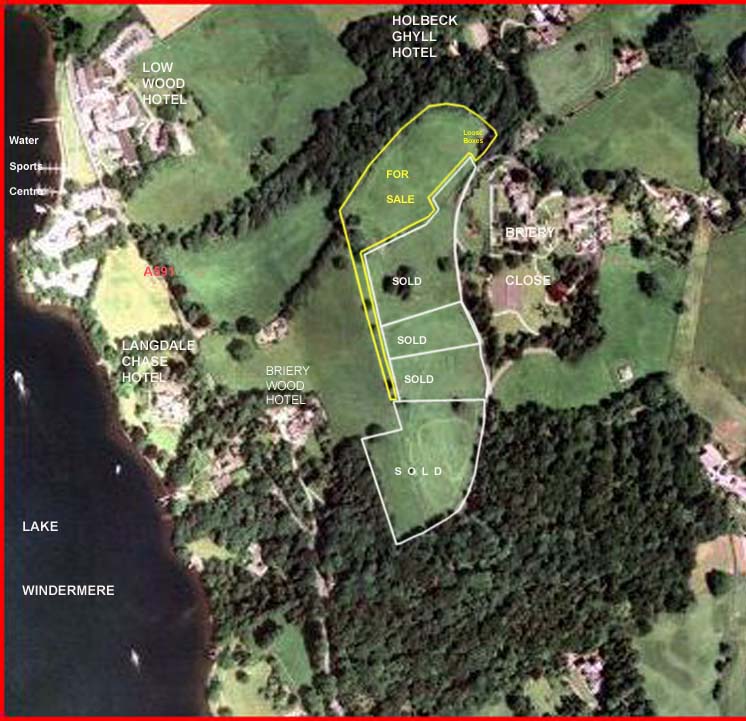 SITE PLAN